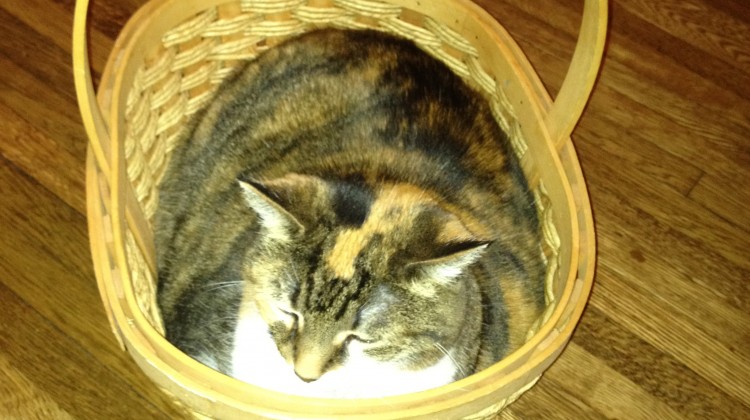 Our cat Athena died about two weeks ago, euthanized in the face of kidney failure.  She was nearly fifteen years of age, which is reasonably old for a cat.  She lived a long life filled with domestic cat activities, prominently including napping, eating, and play.  She was especially fond of running water, which we found amusing.   I consider her to have been an excellent cat, though I admit that this is hard to explain.  What makes a house cat excellent?
Readers of Thinking Aloud, my recently published collection of essays, are most likely to praise the pieces that share learning from my late parents and other mentors.   Remembering a pet, however, is not equivalent to remembering a person.  More to the point: I didn't learn ethical leadership lessons directly from Athena.   Quite the contrary; by human standards she was amoral, self-absorbed, utterly hedonistic, and profoundly unproductive.   By the same token, she was not a lousy human being, but a great feline being.  She was often a willing and demonstrative recipient of our affections, was attractive in her appearance and entertaining in her actions, and did relatively little property damage.  In other words, Athena was an excellent cat.
What makes an excellent ethical leader?  Essentially, acting in a manner that in no way resembles an excellent house cat.  A great leader is morally motivated, concerned about the rights and interests of others, purpose- and values-driven, and highly productive.   Perfectly fine cats concern themselves with nothing more than the satisfaction of their desires, and seem to regard others as instruments for meeting those desires.  Fine leaders connect with those around them, and pursue ends greater than themselves.   They take time for rest and recreation, but commit the bulk of their energies to meaningful efforts that benefit others (as well as themselves).  They are humble, appreciating their own infinite, intrinsic value while seeing the same value in their fellow human beings.
Ethical leadership is more a journey than a destination.   We need to rest along the way, and we may get lost or distracted from time to time.  Athena's life may tempt us: it would be much easier to curl up by the fire, stare out the window, or bask in a stationary ray of sunlight.  We can allow ourselves some full-blown, feline-style pleasure-seeking from time to time.  But as human beings, we can, and should, strive for more than that with most of our lives.   The fullest expression of our humanity ultimately calls us back to meaningful pursuits, whatever they may be.
I miss Athena the cat.  She was comically regal, artfully sybaritic, and in all respects a great companion in repose.  With all that said, she was no role model.